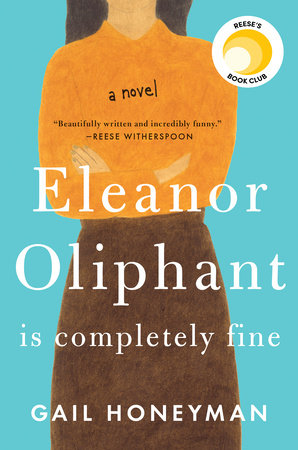 Eleanor Oliphant is not completely fine; that is clear from the start. But she is survivor, whether she knows it or not. This book is Chris Bohjalian's disturbing The Double Bind mashed up with Graeme Simsion's charming The Rosie Project, with fascinating, heartwarming, and surprising results.
Twenty-nine-year-old Eleanor has worked in an office job for eight years. From Monday through Friday she has her head down at work, unable to figure out how to interact positively with her co-workers. Every night, she goes home to her apartment, has a solitary dinner, and goes to bed. She drinks her way through the weekend, alone, just to get from Friday to Monday. Every Wednesday evening, she speaks with her "Mummy," a terrifying maternal figure. As the book progresses, we find that Eleanor has had a challenging upbringing that featured abuse and trauma, but the biggest problem she faces is an inability to recognize "normal."
The first few chapters of the book describe Eleanor's loneliness in painful detail, but for the reader, the ache is tempered by the laugh-out-loud observations Eleanor makes along the way. Her point of view is definitely unique, but it rings true in the context of what, over time, we find her life experience to have been.
Eleanor's lonely existence starts to evolve when she develops a crush on a singer in a band. She essentially goes through her teenage years a decade late as she deals with these new feelings. The crush leads to a clumsy attempt to improve herself. At the same time, she begins inadvertently to form friendships with Raymond, the new guy at work, as well as the elderly Sammy and his family. Before she knows it, she has something resembling a social life—and the emotions that she has suppressed her whole life begin to demand her attention.
By page 18, I thought I knew exactly what was going to happen with this book. By page 28, I had revised my assessment somewhat. By page 74, I had surrendered myself to the charm and unexpectedness of the story, rooting for the unconventional heroine and the sweet characters who model normal behavior for her and ultimately help Eleanor to reclaim her own voice.